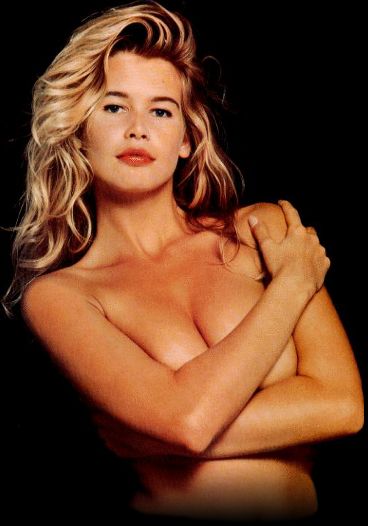 Some info on Claudia:
Born: Aug 25, 1970, Rheinberg, Germany.
Height: 5'11" (180 cm).
Weight: 127 pounds (58 kg).
Bust-waist-hips: 37-24-36.
Husband: Matthew Vaughn (married on May 25, 2002).
Parents: Heinz and Gudrun Schiffer.
Siblings: Ann Carolin, Stefan and Andreas.
Occupation: Actress, model.
Agency: Elite.
Claim to fame: As the new Guess girl in 1989.
Demands around $30,000 per fashion show.
Has a $6,000,000 contract with Revlon.
Has been on more than 400 magazine covers.
Was until 1999 engaged to magician David Copperfield.
Claudia likes painting, reading, tennis, horseback riding, skiing and dancing. She is also a spokeswoman for the battle against breast cancer and volunteers for UNICEF.
My selected pictures of Claudia (20 pages)
The Claudia Schiffer Memory Game
Site information

External links:
Claudia Schiffer at Chester's World of Women
ClaudiaSchiffer.org
Supermodel Pages - Claudia Schiffer
AbsoluteNow: Claudia Schiffer
Le site de Claudia (French)
Simplemente Claudia
Claudia at Top Models Paradise
Claudia4ever
Claudia Schiffer Collectors Circle
Women Celebs: Claudia Schiffer
Model Café - Claudia Schiffer
Claudia Schiffer - A tribute
Claudia's Web
Leon Cusack's Claudia Schiffer Page
Gallery Zero - Claudia Schiffer
AskMen.com - Claudia Schiffer
Claudia Schiffer Photo-Galerie (German)
Modelstown - Claudia Schiffer
Entertainment Elite - Claudia Schiffer
Adult models - Claudia Schiffer
Actress Cecilia Frode
My own tribute to Barbi Benton
My own tribute to Patsy Cline
My Norah Jones CD album collection
My pinball machines
My personal homepage