---



Per's Part of Cyberspace




(These pages are optimized for a resolution of 1024x768, 24-bit colors)
Break out of frames
---
---

(Note: This is a nostalgia site that has
undergone only minor changes since 1996...)





Don't walk in front of me, I might be unable to follow you.
Don't walk behind me, I might be unable to lead you.
Just walk by my side and be my friend...



---



Greetings, Chocolate Zingo lovers!

My name is Per, I'm 61 years old, and I live in Sweden, in a small beautiful town called Örnsköldsvik, up north on the east coast. I work as a computer technician at a school. I manage the computers and the software for the education and the administration. I've been working there for 38 years now. The school I work at, Nolaskolan, is what I guess you would call a "high school" or "upper secondary school". The students are somewhere between 16 and 19 years old. You might get some answers to your questions about me here if you like. If you are interested in Patsy Cline, press the "Patsy" button! Or maybe the Swedish actress Cecilia Frode? I have the privilege of handling her official homepage! Press the "Cecilia" button! And what about the blonde bombshell Jean Harlow? Press the "Jean" button to look at my photo collection.

Finally, I want Zingo Chocolate back! If you are among us who tasted that unforgettable flavour during 1973-1974, please send an e-mail to Carlsberg in which you demand to have this superior softdrink back on the market! Or are you among those who think that Zingo Chocolate never existed? Click here to see a couple of ads and the labels!

Zingo Chocolate - A taste you'll never forget!




---
---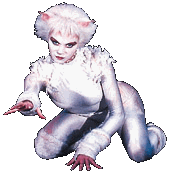 ---
The Old Man
One day I saw a man, old and wizened and bent,
Wrinkled head trembling, tired feet shuffling, everywhere he went.
He slowly raised his hand in greeting as he went upon his way,
and remarked to me with a shaky smile on the beauty of the day.
Once he was surrounded by little ones wanting a piggy-back ride.
Once he'd held a squalling babe with his loving wife at his side.
Now his children have all grown up, leaving nothing but bitter tears.
The wife he adored with all his soul has been gone these fifteen years.
Each morning he makes his breakfast and eats it all alone.
And sadly wonders to himself if his kids will ever come home.
He dons his hat, picks up his cane and goes out for a walk.
And if he's lucky he'll find a kind stranger with whom to have a talk.
Poem written by Charmaine
---
God put me on Earth to accomplish a certain number of things.
Right now I'm so far behind, I will never die...
---
Visit Ananova! The world's
first virtual newscaster!
---
It's nice to be important, but it's more important to be nice...
---
This page, which is in swedish, sends out a thought to the relatives and close friends of the victims in the horrible murders that have taken place in this country during the past 15 years.
---
And take a look at one of the greatest bridge building projects of our time! The High Coast Bridge, just a few miles from where I live, has now been finished! It is one of the world's longest suspension bridges, just about 40 meters shorter than the Golden Gate in San Francisco... Follow this link to get more info about this great project and to look at photos. The project was finished during the fall of 1997, and the bridge opened on December 1st.
---
---
The color of your skin does not matter to me unless I am going to paint your portrait.
Your sexual orientation does not matter to me unless I am going to make love to you.
Your religion does not matter to me unless I am going to write your biography.
---
My sites and subpages:
---
---
Do you have any positive thoughts?
Send them to me!
---

If I could see the world through the eyes of a child,
what a wonderful world this would be...
It would be no trouble and no strife,
just a big happy life,
with a bluebird in every tree...
I could see right, no wrong, I could see good, no bad,
I could see all the good things in life I've never had...
If I could see the world through the eyes of a child,
what a wonderful world this would be...

That's all, folks!
These pages are hand coded using Microsoft Notepad.

© Copywrong 2016-1996 Per Jonsson. No rights reversed.